We are very proud of Major Bennie, Cully, Miki, Bernie, Mia, Ruby & Strat, who were all raised here at Lonesum D Ranch, and are now certified service dogs trained by George Leonard, Master Dog trainer at MSAR and Courageous Companions.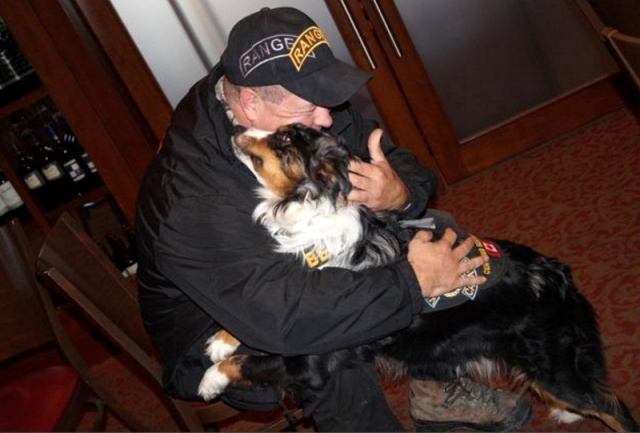 This is a comment taken from MSAR's Facebook page:
"Many people get to meet our Aussies (Bennie,Spirit,Cully, Miki. etc) and always ask - "Why an Aussie as a service dog?" - so Just a note about the Australian Shepherd - or more commonly known as an Aussie - is a breed actually developed in the United States, despite its name. They make amazing service dogs because they love to work and are devoted to their families. Aussies are intelligent, thrive on human companionship and are commonly known as "velcro dogs" - they form intense, devoted bonds with select people. So naturally this makes for a great service dog. I love my little Aussie - Bennie aka B-Man, an Elite Service Dog, does his job without fail, he is small enough to travel (planes, cabs etc), amazing temperament, a true velcro dog and simply adorable. We get many many requests for people looking for Aussies - remember these are working dogs, they need to bond with people and want to be active - we need this in a service dog, this may not meet your dog needs. Try to match your active level and lifestyle with the dog you choose."
~ George Leonard, Master Dog Trainer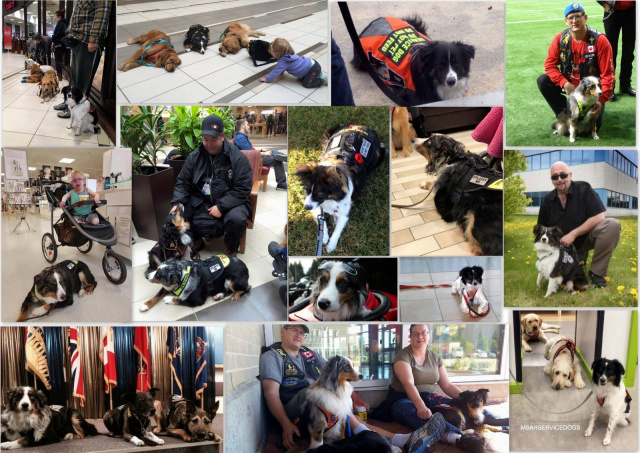 Aussies (except Spirit) come from Lonesum D Australian Shepherds - big thanks to Pearl and Naomi for - Bennie, Bernie, Miki, Strat, Cully, Mia
Spot Light - Choosing a Service Dog Breed
by MSAR
We get many emails and messages with questions and one of the most common is…."What breed of dog should I use for a service dog?"
The next instalment of what breeds of dogs we use for Service Dogs - we have already posted on Golden Retrievers and now Australian Shepherds. The Aussie aka the "Ghost Dog" sacred to Aboriginals because of their two colour eyes and a favourite of our founder George Leonard. Our lead dog and public relations dog is an Aussie (Bennie) and people are amazed at his temperament, bond with his handler and his level of training. Of course George is bias when it comes to talking about Aussies but he states.."He literally knows me better than I know myself, and I owe my life to this amazing friend and partner."
These are one of our go to breeds and we use tons of Aussies in our service dog programs for Post Traumatic Stress Disorder (PTSD) and Seizure Detection. These dogs are known as velcro dogs and bond deeply with their partners, so they are very in tune if their partner is out of balance. And for seizures - well you can't beat their stalking ability since they were originally bred as herding dogs.
Trainable - yes very trainable and extremely intelligent and must be kept busy.
Family - great family dogs, make sure to stay on top of their nature to herd.
Shedding - regular brushing required
Bonding - velcro dogs
Health - make sure to get them from a good breeder
Other animals - great with other dogs and cats
Protective - this is not a guard dog
Exercise - needs regular exercise and play
Size - mini size and regular
Click here to see an interview of:
Tyson King with his Lonesum D Aussie, Cully, by Shaw TV
(Note: Cully started working with vetreran Laurie Sutherland who was able to get over her PTSD with Cully's help. She then re donated him back to the program and he is now with Tyson King. Laurie has since gotten a nephew of Cully's from Lonesum D Ranch as she really missed Cully's companionship.)
Click here to see an interview of:
The Manitoba Search and Rescue 'Courageous Companions' program
Starring Major Bennie and Master Dog trainer George Leonard
Click here to see: Dogs helping vets with post traumatic stress disorder
Starring Cully with partner Laurie Southerland and Bennie with Master Dog trainer George Leonard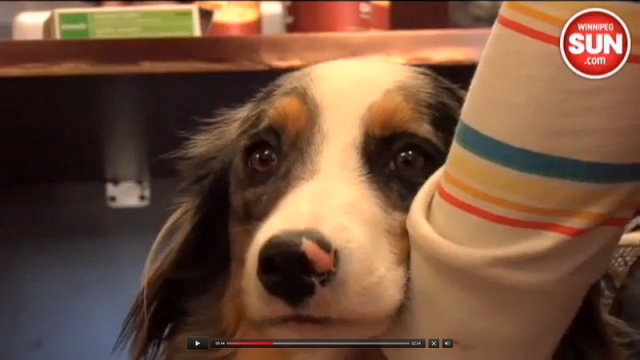 Click here to see: Sticking by our soldiers
Starring Cully with his new partner Tyson King and Bennie with Master Dog trainer George Leonard
Click here to see: Hey! Leave that dog alone
Starring Bennie and Master Dog trainer George Leonard
Click here to see: Pets and Pals: Courageous Companions help veterans overcome PTSD
Starring George Leonard with Bennie and Tyson King with Cully
Click image below to see: Skepticism swirls as service dog use expands
Starring Mia and Cully
LISTEN UP HERE - MAJOR BENNIE'S REPORT

"I am back to Winter-peg - oh my goodness -50 last night - yeah. It was a whirl wind tour and I got 90% accomplished in Project Ottawa - it was a major success and we far exceeded our expectations with the following successes:

1. Received a huge cheque, not sure if it will fit in the ATM but we'll try - there was a very generous donation from Harris Rebar for $100,000 - it will help get me a lot more friends that will help more veterans.
2. I met the people I was suppose to impress - Minister Fantino, Cheryl Gallant, Senators aids, Gary Foster from the Legion Command. This was very successful and more announcements will be made regarding these discussions - it was nice to see all the focus on the veterans and helping veterans with service dogs. I even got to show how I work along with all the other service dogs with interruptive behaviour and behaviour modification when my partner ran into trouble discussing Elijah and getting help to our veterans.
3. I got to meet Senator / Ret'd Lieutenant-General Dallaire and he had some special words for my partner and I got to see how proud George and the other veterans were to meet such a great man and hero of Canada.
4. Heard that the standards that I have been trained to will be moving along as well as improved - the national standards, as well as the national service dog card were well received and move forward in the assessment process to the govermnet agency - the Canadian General Standards Board.
5. Got to meet Ret'd Brigadier-General Barabé, Scott and Phil from Wounded Warriors - thanks for the support guys and of course to Wounded Warriors for the cash $100,000 - I simply would not have as many friends as I do - 101 Certified Friends and over another 150 in training or in the process.
6. Found out that I have a couple of new bosses - Courageous Companions has added two new Board members (both veterans) to the cause - Current - Terry Green (my dog friend Church Hill), Chris Cvetkovic, Julian Austin and the newest - Bill Nachuk (my dog friend Gambler) and Mike Sharron (my dog friend Riliey). Look for further additions and announcements related to this board that directs the operations and organization.
7. Listened to some veterans testimonies - they were very powerful in the message and clearly stated that the Service dog is part of the process and a another tool in the tool box for treatment. The dog is the last part of the treatment and has proven to even help save a soldiers career - this was stated by Bill Nachuk. It was well received and Mr. Fantino is very supportive of the service dog program.
8. Was invited back to meet with some senators and discuss the program - heard some really good news on this but I am not able to comment until I get to Ottawa and sign the papers.
9. Was given a new assignment to get ready for - helping in particular a special veteran in Ottawa having trouble with seizures and to help train a dog "Major Tom" - he is going to a veteran that will need a team of trainers to get him a dog - look for this announcement on Monday…..anytime I can help a Canadian hero and get a new dog friend - count me in!
10. Met new veterans entering the program and a couple even had dogs.
11. Attended a great planning session of Courageous Companions and its partners, supports and interested parties - wow - lots of progress and big things are going to happen - look for even more updates.
12. Received a special letter from a veterans daughter that is thanking us for helping her dad and she is "paying it forward" with a special project. We were very touched by her letter and will announce the project when we get to to talk to her on the phone - look for another announcement on this project.
Click image below to see more pictures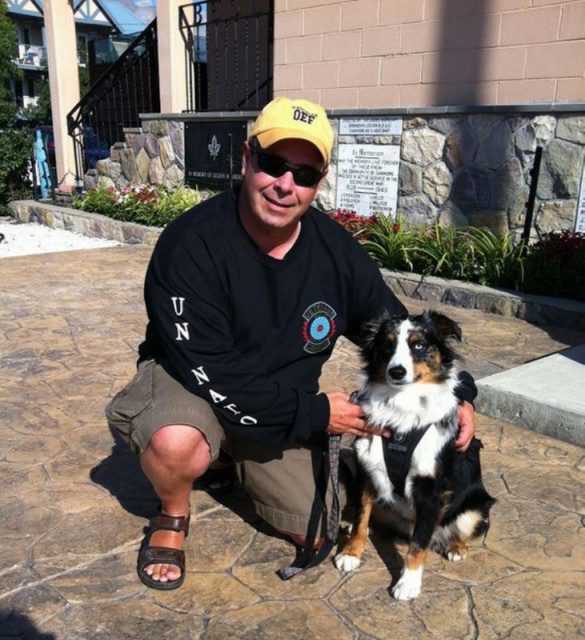 For more info on MSAR go to :https://www.facebook.com/MsarServiceDogs